HP and Qualcomm, like much of the tech industry, currently find themselves in the doldrums for distinct reasons.
HP, a stalwart in the PC and printer market, has continued to adapt to the shifting tech landscape. With the Covid-driven heyday of increased PC sales over, the decline — or at least stabilizing — of traditional personal computing, increased competition, and a slow industry pivot toward innovative solutions and new usage models have hampered its growth.
Though interesting, the company's foray into 3D printing and enterprise services has yet to yield significant dividends, leaving shareholders skeptical. On the other hand, Qualcomm, a leader in mobile chipsets, faces its own set of challenges.
The smartphone market has flattened, and its ARM-based silicon solutions in the laptop space haven't shown dramatic appeal yet to many users. Expressly, the maturation of the smartphone market and increased competition from rivals have limited its growth prospects.
Both companies must navigate rapidly changing technology trends, such as the rise of 5G and the internet of things (IoT), to regain their footing. Innovation, diversification, and effective cost management will be crucial for their resurgence in the tech industry.
Despite these challenges, neither HP nor Qualcomm have taken their foot off the innovation gas pedal. Tempting as that might be from an opex savings standpoint, the last few weeks have showcased important announcements that underscore each company's collective belief that innovation is the best way to mitigate the general market's sluggishness and lethargy.
HP's 'Live Better, Work Happier and Dream Bigger' Mantra
The most attention-grabbing announcement made by HP recently wasn't the introduction of a portable all-in-one computer. The company's 2024 plan was presented during the HP Imagine 2023 conference, showcasing several exciting new projects and products, some of which are already available for presale.
HP President and CEO Enrique Lores and several other HP officials kicked off the event. The business unveiled new devices and video creation peripherals, customer care solutions, and plans for AI integration with enterprise- and consumer-grade laptops and desktops, providing an overview of the company's product and strategic direction for 2024.
Spectre Fold 'Wow Factor'
The audience at Imagine 2023 was given a tour of the most recent HP accessories and equipment and information on impending releases by Alex Cho, president of personal systems and solutions.
Cho presented the HP Spectre Fold, which has a 17-inch screen and can be used as a tablet, laptop, or desktop. While others, notably Lenovo, have jumped into the "foldable" screen laptop space, the Spectre Fold has a few things up its sleeve.
With its low-profile keyboard and small size, it appears to be a typical 2-in-1 laptop at first glance. However, the keyboard can be removed to show the other half of the primary display, transforming the device into an all-in-one 17" desktop. Pre-orders for the Spectre Foldable PC are underway, with a starting price of $4,999.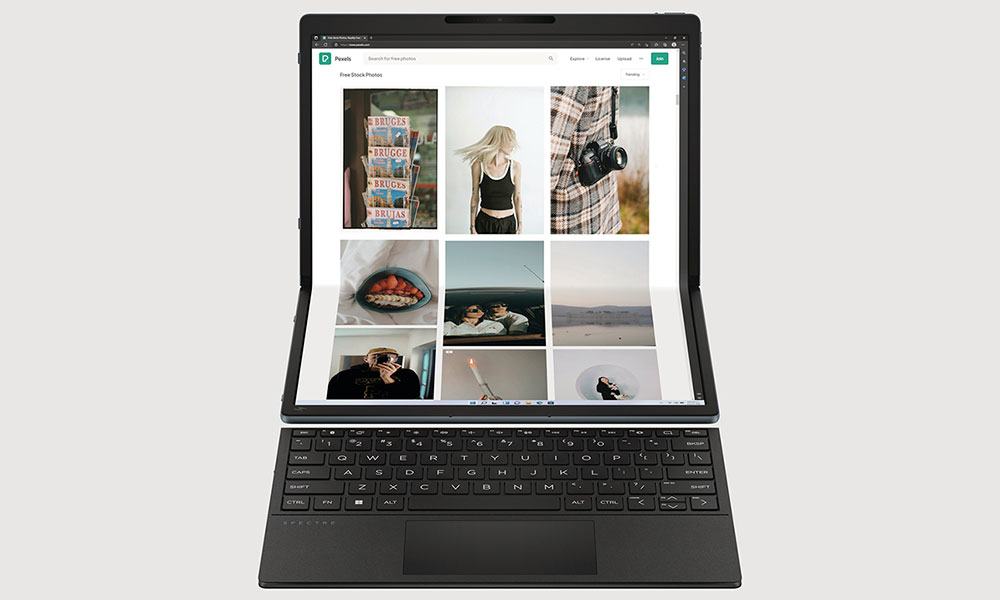 The HP Spectre Foldable PC in extended screen mode (Image Credit: HP)
---
Envy Move Portable All-in-One PC
Cho also unveiled the HP Envy Move, a deceptively mobile all-in-one computer. It has a 23.8-inch display, an integrated handle, a 4-hour battery life, and a storage pocket at the back for the full-size keyboard that comes with it, which also has an integrated touchpad.

HP Envy Move 23.8-inch All-in-One PC (Images Credit: HP)
---
A 13th-generation Intel Core i5 processor, up to 16GB of RAM, and up to 1TB of storage will be used as core configurable elements of the new HP Envy Move.
With a starting price of $899, the Envy Move is also now available for pre-order.
HP Targets Video Content Professionals
Cho then outlined the most recent products offered by HP's gaming peripheral division, HyperX.
The business intends to enter the video content creation market with the Vision S webcam and Audio Mixer interface, despite being best known for its headsets, mouse, and keyboards.
The 8MP Sony Starvix IMX415 sensor in the Vision S allows for up to 4K resolution at 30 frames per second or up to 60 frames per second at 1080p HD. It also has a magnetic privacy cover and an aluminum body for durability and spy-proofing. Established video streamers, podcasters, and other content producers were consulted on the HyperX Audio Mixer interface design.
Aside from its appeal to more prosumer-style users, beginners wishing to improve their video content may also benefit from these solutions.
Users may create unique equalizer settings for various devices in addition to their master audio because it can connect to XLR or USB microphones and 3.5mm audio input.
Poly Acquisition Paying Dividends
Cho concluded his presentation by discussing HP's work with Poly to develop webcams, headsets, and speakers for business conferencing and collaboration.
Next up was Dave Shull, HP's president of Workforce Solutions, who spoke about hybrid work solutions like HP's first-ever refurbished device resale program and AI-assisted workflow tools that can do everything from compiling complicated strings of code and calculations for data scientists to creating bulleted notes from any work meetings you might miss.
Next year, HP will make its groundbreaking new software platform, HP AI Studio, available to data scientists and other AI professionals to speed up and scale the development of AI models.
HP also unveiled a new AI workstation solution that makes creating and altering personal AI models and programs easier. Thanks to a partnership with Nvidia, HP says it will be the first company to market with dedicated enterprise workstation solutions utilizing the Nvidia AI Enterprise software platform in the coming months.
Finally, HP's most recent range of corporate printers, including the HP SitePrint, was unveiled by Tuan Tran, president of image and printing solutions, as he wrapped up the Imagine 2023 conference. A productivity-enhancing robotic construction printer called SitePrint is intended to paint construction layout blueprints on-site swiftly and precisely, minimizing the possibility of mistakes or delays.
The company collaborated with Leica Geosystems, Topcon, and Trimble for the SitePrint robot to be compatible with current survey tools and navigation systems. Tran clarified that the SitePrint would first go on sale in Germany, Austria, and Switzerland on Nov. 1. However, no release date or introductory pricing for the United States was given.
Qualcomm Gears Up AR/VR/MR Silicon Solutions
While much of the industry talk since June of this year has focused on Apple's reveal of its Vision Pro solution, Qualcomm clearly sees an opportunity for those customers outside of the Apple ecosystem, and the chipmaker wants to take advantage of the price umbrella that will be created when Vision Pro becomes available.
Recently, Qualcomm unveiled its newest AR/VR/MR ingredient solutions. The company hopes to provide manufacturers with an expansive and powerful platform for developing comparable solutions in light of the impending emergence of new AR/VR platforms, which has been validated by the announcement of Apple's Vision Pro.
New mixed reality (MR) and virtual reality (VR) products will be made possible by the new Snapdragon XR2 Gen 2 and the AR Gen 1. With the latest generation, Qualcomm is concentrating on making it possible for OEMs to create more affordable, small, and light devices without needing a large battery pack.
OEMs will have an excellent opportunity to experiment with the new platforms in this market, as a considerable segment of users will be put off by Vision Pro's $3,500 price point.
In my view, the more intriguing of the two is the Qualcomm Snapdragon XR Gen 2 CPU. With 2.5 times more GPU performance than its predecessor, it enables mixed reality and virtual reality devices. Supporting up to 10 cameras and sensors and boasting an 8x improvement in AI performance for handling tasks, it also incorporates the latest Spectra ISP and can accommodate two 3K screens.
Most importantly, these attributes make it a compelling competitor to the Apple Vision Pro.
The Qualcomm Snapdragon AR1 Gen 1 platform is designed to power thin mixed reality smart glasses. Additionally, it allows for the performance of visual searches and real-time translation, as well as direct recording and live broadcasting from the glasses.
It's interesting to note that Meta helped develop both systems, which will soon appear in the recently announced products from Meta.
For instance, the Qualcomm Snapdragon XR2 Gen 2 Platform will power the upcoming Meta Quest 3. The new Ray-Ban Meta Smart eyewear will use the Qualcomm Snapdragon AR1 platform.
By 2024, additional OEMs are expected to use this platform to create their own devices.
Closing Thoughts on Long-Term Strategies
One shouldn't expect these solutions to completely or immediately turbocharge the slowing businesses that HP and Qualcomm participate in, such as the PC and smartphone categories.
These solutions should be considered strategic as they're setting the stage for long-term growth once overall vitality returns to the general technology markets.
For example, the HP Spectre Fold epitomizes HP's innovation DNA by pushing the boundaries of laptop design and showcasing HP's commitment to redefining user experiences. Its flexible, foldable OLED display seamlessly transitions between laptop and tablet modes, offering versatility and convenience.
This bold departure from conventional laptop design underscores HP's willingness to embrace emerging technologies, delivering novel solutions that cater to evolving consumer needs.
The Spectre Fold demonstrates HP's dedication to pushing new frontiers and creating products that inspire and amaze users.
My recent interview with Stacy Wolff, HP's Global Head of Design and Sustainability, provides some color on what the company hopes to achieve with the new products announced at the Imagine 2023 event:
Similarly, the Qualcomm XR2 Gen 2 platform is a big deal for the MR and VR markets, as it is poised to make these technologies more enticing for mainstream users, something that has yet to happen.
Its advanced processing power, improved graphics capabilities, and enhanced AI integration enable more immersive and lifelike experiences, and its lower power consumption and better thermal efficiency result in longer-lasting, comfortable wear.
Additionally, support for 5G connectivity — where Qualcomm is the market leader — ensures seamless, high-quality content streaming. Qualcomm's innovation sets the stage for AR and VR solutions to become more accessible and captivating for a broader audience, foreshadowing a new era of mainstream adoption.
HP and Qualcomm have some heavy lifting to do concerning these highlighted announcements. For example, HP Spectre Fold has the potential to implement some attractive new usage models, and the company's strong relationship with Microsoft will help educate the market.
However, since many PC OEMs will ultimately offer comparable types of products, the risk of usage model "balkanization" in Windows may confuse users and hamper traction.
As for Qualcomm, the most significant risk in the AR/VR space is that the developer community doesn't rise to the occasion with compelling new applications that have always been a strength for Apple in the smartphone and tablet space.
Qualcomm's play here will undoubtedly involve the likes of Google. Still, it will be up to one or two significant OEMs (perhaps Samsung) with industry heft to lure developers to deliver compelling applications that exploit the power of Qualcomm's silicon.
While there is little HP and Qualcomm can do to shorten the broader macroeconomic malaise the global technology space finds itself in, both companies are investing in the future and laying the groundwork for a general market turnaround that will pay dividends over the next 12-24 months.
HP and Qualcomm are playing the long game, but kudos to both companies for not playing it safe.